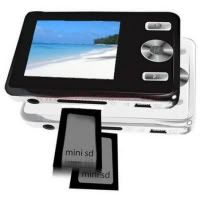 My husband and I love music though we have different taste but some tune we can agree on. I have hundreds of CD's in the house and I'm trying to listen as much as I can. Anyway music has been around since I can remember. We can listen to it however we want. In the car we can listen to the music. It's either from the radio, Cd or cassette tape. Music is everywhere wherever you go. Walkman have been popular for the longest time now the new player has been born. We call them mp3, mp2 and mp4. To be honest it's the first time I heard mp2 and mp4. I only knew mp3. No one in my family owns an mp3 except my sister. We do have a karaoke sing along...lol.
I'm thinking of getting my husband an mp3 for Father's Day. But I am also considering to get him a
Music Video player with SD and MP2
, Sempra II MP3 Video Player which are new products at Audio Mania co uk. These new videos also featuring video support , FM radio and also 2"screen. If you are interested to see the music video players please don't hesitate to visit the site online. It's called Audio Mania.co.uk. They have also other products like memory cards, mp3 accessories, car dvd players and many more.