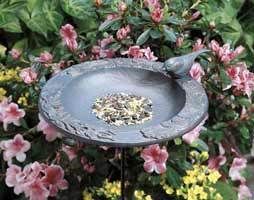 Gardening is my favorite subject these days. I wish I have more time to work on my garden. The grass is not even cut because hubby is very busy as well. I hope this weekend the grass will be cut off or else all the wild animals will camp out here;lol. Anyway I've been seeing a lot of birds around my backyard and frontyard as well. I guess it's about time to get those
decorative bird houses
that I saw in the stores. Maybe I can order them at yard Envy dot com. I was checking their site and I love their collections of
bird feeders
, very artistic and also affordable as well! I also spotted a vinyl arbors which is really nice in my garden. Wow! so many things to buy for my garden.
Well, I almost forgot Father's Day is almost here and I haven't buy anything for hubby yet. What do you think of porch swing or rope hammock. Hubby would probably enjoy it drinking his beer and just relax in the hammock. I could use the hammock for myself as well for my reading or just relax there and gaze the stars. Well enough for yacking about those things. It's time to check out the the site for your
garden decor
and patio furniture.